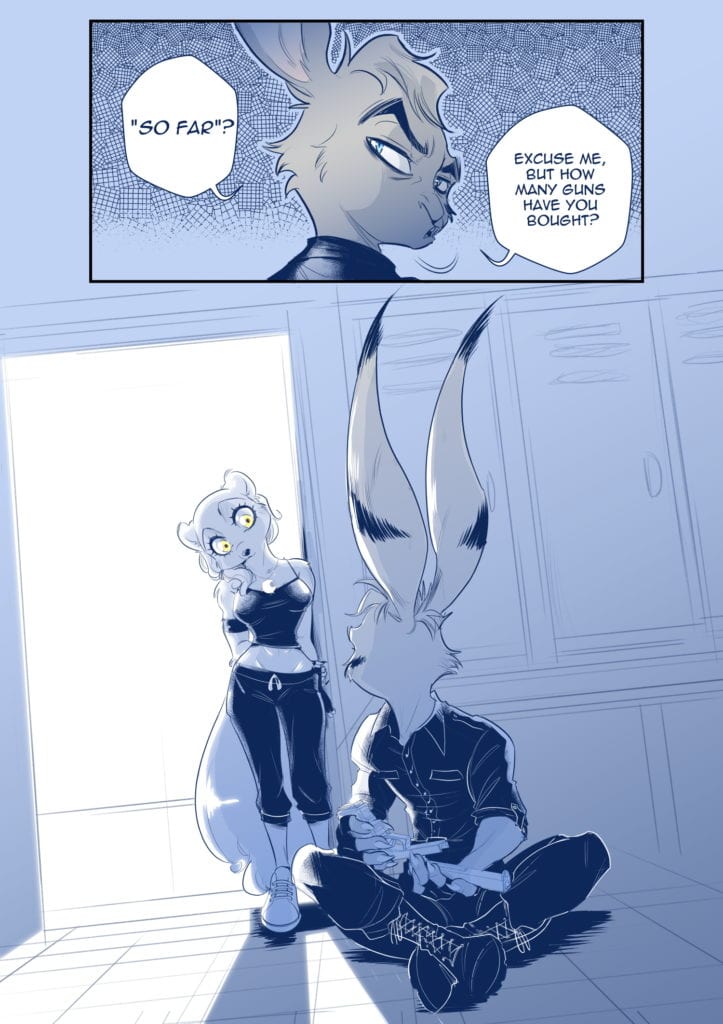 September 21 is Jack's birthday! Despite us being extremely busy in the past few months, we couldn't miss our dearest boy's birthday.
So, I wrote a little snippet… but, unfortunately, it's in Italian, because this time I didn't feel like translating it. However, there's always Rem's gorgeous art-style which never fails to bring us some joy!
Note: although it's untranslated, the snippet does tell a bit of canon story about young Jack and Cynthia. It's about Jack buying customizable fireguns and Cynthia imitating him in everything he does…
The drawing and the story are respectively available on CYMBERLIGHT > SINGLE ILLUSTRATIONS and CYMBERLIGHT > SHORT NOVELS > NUGGETS OF ☾YMBERLIGHT from the menu. Alternatively, you can read the story here by hitting the Continue reading → button, or simply go here.

"E quella che cos'è? È nuova? Non te l'avevo mai vista."
Jack, che credeva di essere finalmente riuscito a trovare il nascondiglio perfetto per ammirare il suo nuovo giocattolo, sobbalzò nel sentire la voce di Cynthia alle sue spalle. 'Non è possibile,' pensò la lepre, facendo schioccare la lingua per la frustrazione, 'è riuscita a trovarmi. Di nuovo.'
Diventava ogni giorno più difficile sfuggire alle attenzioni dell'Agente Walker. Jack ce la metteva tutta per evitarla o, quando non era possibile, almeno soffocare sul nascere qualunque suo tentativo di attaccare bottone. La maggior parte delle volte ci riusciva. Altre, non era altrettanto fortunato. E sentiva che questa era una di quelle. "Sì, è nuova," rispose Jack, lapidario. Ci sarebbe stato bene un altro pezzo di frase, dopo il primo, ma lui serrò le labbra come a voler impedire a qualunque altro suono di lasciare la sua bocca.
Il che era sciocco, visto che lui non aveva alcuna intenzione di fare neanche mezza chiacchiera con lei.
"Oh." La volpe artica, forse intuendo la sua volontà ad evitare qualunque dialogo, suonò un po' scoraggiata. Jack fu sul punto di dispiacersene, ma poi lei aggiunse: "Posso vederla?" e tutta l'empatia che poteva provare per lei svanì in una nuvola di fumo. Puff.
"Veramente, la stavo ancora assemblando."
"È una pistola custom?" L'entusiasmo di Cynthia si accese di nuovo. "Fantastico! Anche io, sai, ho cominciato a comprarle…"
'Ma non mi dire. Tu, che copi quello che faccio io? Mai vista una cosa del genere.' Jack digrignò i denti, infastidito. Ma doveva fare il mammifero maturo, perché tra i due era quello più grande di ben otto mesi e non poteva mostrarsi indispettito come un marmocchio di cinque anni (anche se sotto sotto lo era). "Devi stare attenta a dove le acquisti," rispose Jack. "Molti siti non sono affidabili e vendono solo robaccia." 
"Ah, sì? Caspita, non lo sapevo… però penso di aver evitato truffe finora, perché tutte le pistole che ho comprato funzionano molto bene."
"Finora?" Jack non aveva mai avuto intenzione di voltarsi verso di lei, perché farlo avrebbe sancito l'inizio ufficiale della conversazione. Eppure, prima che potesse accorgersene e fermarsi, si ritrovò a fissarla sconcertato. "Ma scusa, quante ne hai comprate?"
Cynthia se ne stava lì, in piedi all'ingresso dello spogliatoio in cui lui si era rifugiato per sfuggire alle attenzioni del mondo, con le mani dietro la schiena e un accenno di sorriso sul muso affusolato. Si dondolava da un piede all'altro, sembrando un po' imbarazzata, ma contenta allo stesso tempo. "Cinque," gli rispose, facendo seguire il numero ad una piccola risata. "Pensi… che abbia esagerato?"
'Certo che hai esagerato! Cinque! È da meno di due mesi che mi hai visto maneggiare un'arma custom per la prima volta, e già ne hai comprate cinque? Guarda che i soldi non crescono mica sugli alberi, eh!' …Così avrebbe voluto replicare Jack di fronte alla testimonianza di un simile sperpero di denaro, guidato più dallo spirito di emulazione che non da una reale passione.
E nonostante questo, di fronte ad un'Agente Walker così timida e graziosa, persino la sua indignazione non poteva che mettersi da parte per fare posto ad un altro sentimento, più dolce, più ingombrante e soprattutto più pericoloso. "M-mah… contenta tu," fu tutto ciò che riuscì a spiccicare, prima di darle precipitosamente le spalle ancora una volta e tornare a focalizzare la sua attenzione, ormai completamente svanita, sul gingillo che aveva comprato e che improvvisamente non gli sembrava più di alcuna rilevanza.